I remember being so excited and enthralled by the mini zine of Merlimau series (Air Kelapa Goyang & Fat Rice) in my hands and purchased another zine, #3 Malaysia Manis Malaysia to accompany it. This was in 2018 at Neueartisan Market in Port Commune, PJ where I met them as part of an artisans showcase. The zines, so small and adorable in my palms, were nothing but fun and witty. It was also colourfully illustrated that any big kid like me could easily fall in love with. This was my first intro to Projek Sembang-Sembang. Honestly, their works were and still are refreshing. And 4 years later, mashaAllah, they are still at it!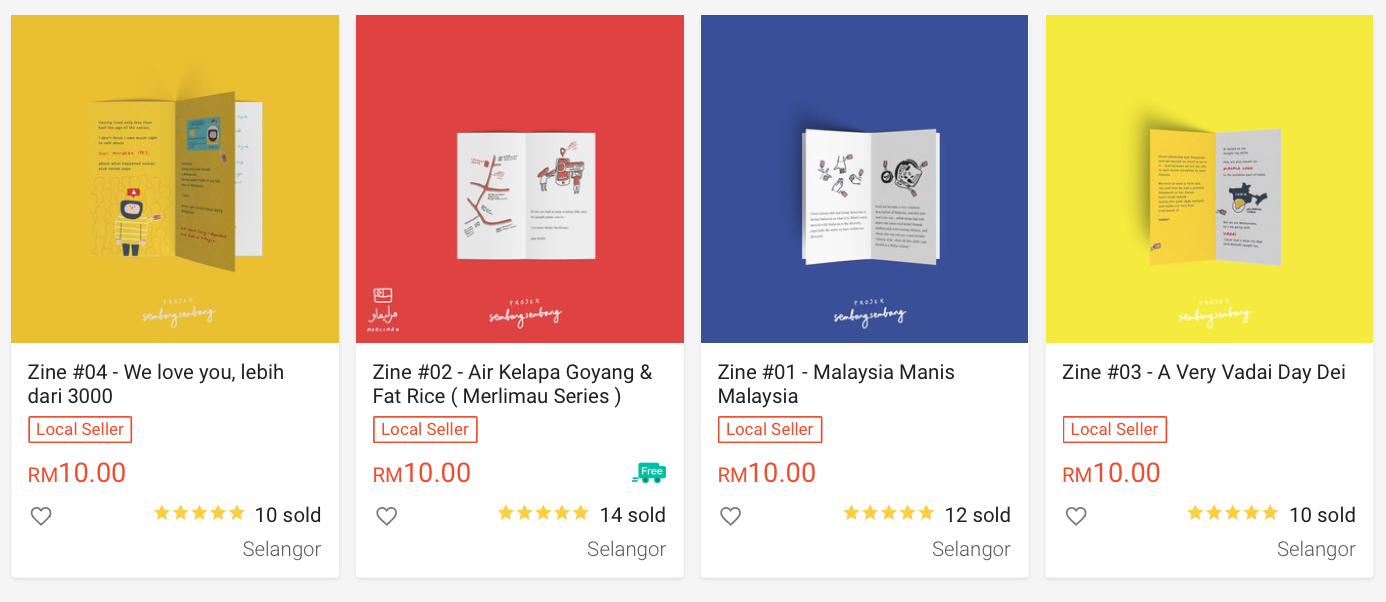 Sembang-Sembang Mini Zine Series
The Punniest Kids In Town
The coolest cats (ladies) whom founded Projek Sembang-Sembang: Nur Farhanah and Nadzatul Aqilah are a match-made-in-design in my humble opinion. One slays and sways with words and the other with a mighty 'pen' to illustrate the comedies and drama of our everyday life. Together, they are a force to be reckoned with and wizard at curating quirky merchandise we all come to know and love, that is truly one of a kind.
Have you seen their Calendar 2022 Project recently?
Community Space: The B2B Support
Mari Cafe Yellow Signage. So cute la!
Did you know, their studio space doubles as a cafe too? Located in Bangi, Selangor, Mari Eat Work Play invites visitors to a warm and cozy nook among the growing commercial shops on the 2nd floor. You can't miss their signage (look for the bright yellow entrance) nor their witty window facade where in true Projek Sembang-Sembang fashion, displays a cartoon figure inviting you to come, "Hai, why?"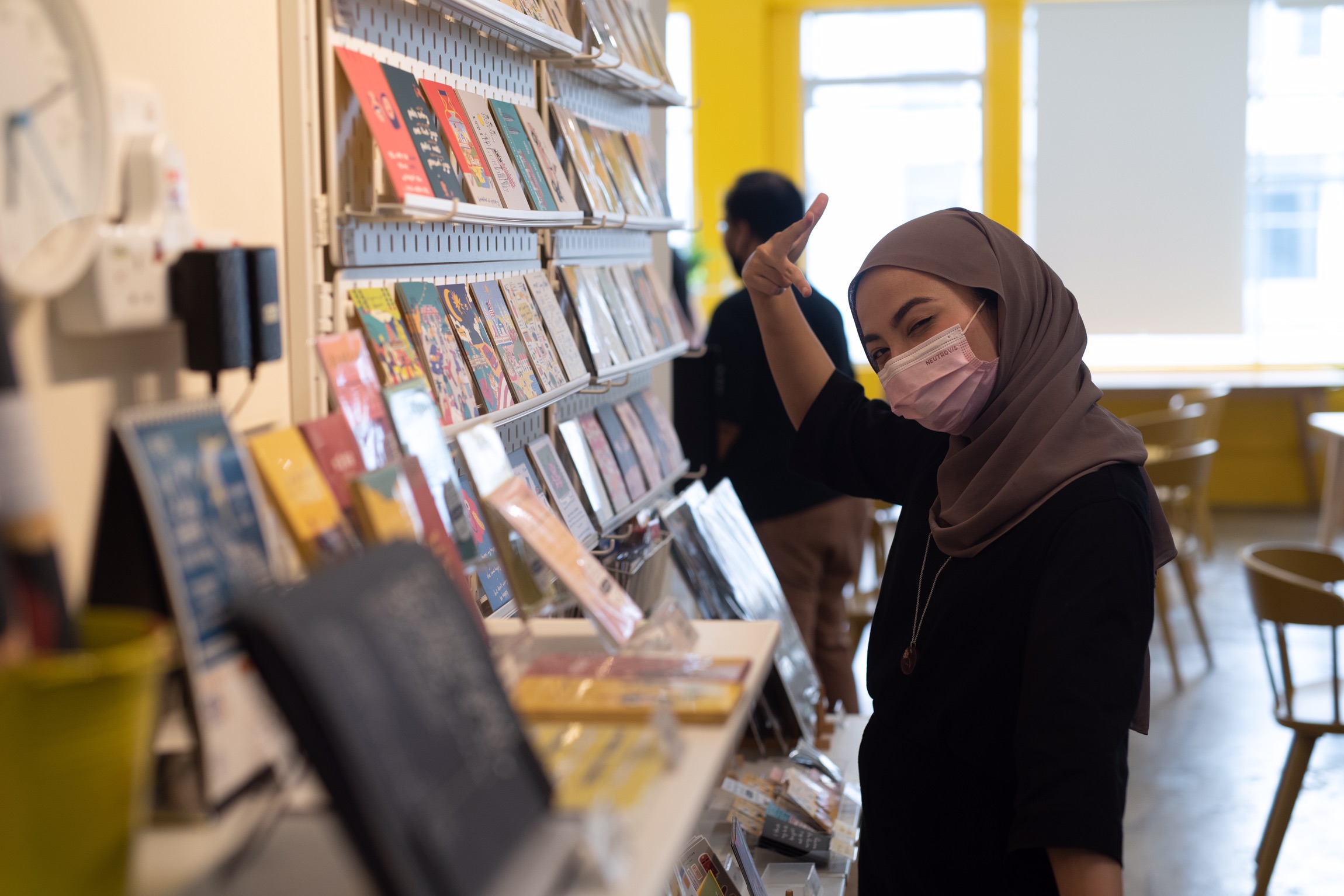 Mari Cafe crew in front of Merch Wall-Of-Fame during Neueartisan Showcase Biophillic 2020
The heart of the cafe's interior stood rows of merchandise and artworks by a variety of small artisans. It's like a mini IKEA for stationeries and gifts you may want from notebooks, postcards, stickers and more. It is such a charming corner, one can't help but to stand for hours perusing each unique item. How marvellous to see a business supporting another business. A multipurpose space, the cafe offers a variety of activities, for private events, workshops, exhibitions and more.
| | |
| --- | --- |
| Sunprint Studio's 2022 Calendar | 365 HARIHARI friends |
Having such a convenient place to mingle, eat and shop, I was introduced to other local brands such as @mintdumpling @mirrdiana @myasquerade @annjfr and more. Some familiar friends too, @bungabintang @aamrh @thearthingy @afisulaiman & @letteralligator.
Genuine and Warm
Both Farhanah and Aqilah are a stickler for professionalism and efficiency! Sunprint Studio has collaborated on 3 occasions with Projek Sembang-Sembang (2 calendar projects and showcase) and it has been nothing but wonderful and transparent throughout the entire process. Personally, as a small business owner myself, I learn a lot from my interaction with them. Outside of business calls and emails, in person, they are as warm and witty as their brand and I would not recommend enough to seek them if you are looking for designers, merchandise maker or witty writer (copywriter) for your business too.
Check out Projek Sembang-Sembang!
Calendar 2022 and other goodies! Feels like my birthday!

I honestly could go on and on about them but I will leave you with some images of their recent goods . Did you know, Projek Sembang-Sembang have their own unique hand-drawn fonts? Be sure to give your support by purchasing, sharing and liking their products!
Website / Instagram / Visit their cafe! / Shopee